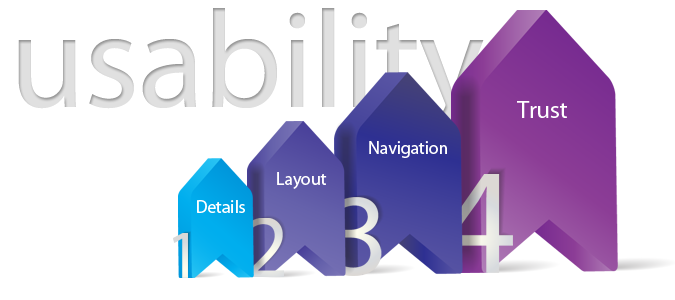 Six Tips to Boost Website Usability and Thereby Gaining Success to Your Business
Web usability plays an important role when it comes to attracting quality user traffic to your website and for conversions. It is the ease of use of your website, and some broad goals of usability include presentation of information and choices in a clear and concise way, and the placement of important items in appropriate areas. Now comes the important question "How to improve my website's usability aspect?" The good news is that improving website usability does not need too much technical know-how. It can easily be accomplished if you make the right choices. Here are few suggestions to help you make improvements on the usability aspect of your website.
Simplifying the Navigation
When it comes to improving usability, you need to think simple. You need to make sure that visitors can find the information they are looking for in the easiest and quickest way possible.  The idea here is to develop a website that is completely navigation-friendly. Then, users can take one look at the page and understand where they need to click. You have to organize your information into categories and use terms that your visitors would easily understand.
Publishing Top-Quality Content
The quality of content you post in your site tells visitors a lot about your company. You must attention to readability of your content aside from spelling usage and correct grammar. Avoid adding complicated vocabulary, unnecessary information, and sentences that are too long. You need to clearly tell visitors what they need to know and your content must get to the point. Using the Readability Test Tool you could even test your content readability and to know which writing improvements you should make.
First Think Like a Visitor
The best way to determine how you can improve your site usability is by looking at things from your visitors' perspective. If you were visiting your website, does the web design attract you? Would you enjoy reading the information? Are you happy with the design? Is the information present in the site is well-organized? Can you easily find the information that you are looking for? Successful delivery and fulfillment of user's requirements happen when you make your website access-friendly.
Allow Quick Scanning
For users to extract information you can enhance your website usability which could be as easy as structuring the website. Site visitors become turned off to the website after they skimmed over long blocks of text. It is important that you make the first two words count in your titles and headings. You can use sub-headers to break up text in an extractable manner. Also, you have to place relevant and important information towards the top of your articles.
Arranging Your Website Content Wisely
Of the time users spend on a webpage, 80 percent is spent looking at information on the top of the page. Also, users spend 69 percent of the time looking at the left side of the page. These statistics give us a clear idea to where we should place the most sought-after information. To maximize the usability of your website you can arrange your content accordingly.
Making Your Webpages Accessible
It is common knowledge that the number of people accessing websites through their mobile devices is increasing on a daily basis. According to a 2014 search market study, the number of mobile searches jumped ahead of desktop searches. When improving the usability of your website, consider its accessibility across all devices, including smartphones and tablets. You need to choose a responsive web design strategy as mobile users will be able to read the texts easily, and also the buttons and images.
Running a Website Usability Test
Running a usability test is the best way to make sure that visitors can easily access information and have a positive experience on your website. This allows you to identify any major issues in the design, resolve them, and monitor the results. By increasing your company's customer satisfaction and interaction your investment in website usability test will pay off in spaces.
These are some of the ways in improving the usability of your website and there are many professional companies that offer budget-friendly, client-specific website redesign solutions. You can approach that service provider that totally accepts your budget demands and come with a solution that is molded from your website redesign requirements.